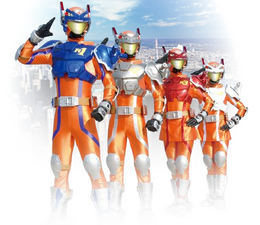 Welcome to Tomica Hero Wiki
Tomica Hero Wiki is an encyclopedia about the Japanese TV programs known as Tomica Hero series. Come anytime & edit stuff.
United Fire Defense-Agency
Edit
The United Fire-Defense Agency (or UFDA) is the organization behind the Rescue Force and Rescue Fire Teams. Their goal is to prevent extreme disasters and fires that are too abnormal for regular rescue squads to handle.
Natsuno Nanbu - Supreme commander, former R4 and RU, Second Rescue Force Official Leader
Eiji Ishiguro - Rescue Force captain, R5
Naomi Okamura - chief of UFDA's System Development Department and Anti-Android Research, former R3
Ritsuko Kanzaki - chief of Technology Development Organization
Bunji Saeki - head vehicle maintenance
Tamami Sugiyama - cafeteria girl
Riku Taiga - Rescue Fire captain, Seminar instructor
Hikaru Todoroki - Second R1, Field Leader of the Second Rescue Force
Rei Kozuki - Training instructor, Second R3
Juri Shiraki - Supreme Commander's assistant, Second R4
Kyosuke Jinrai - Second R2, Field Second-in-command of the Second Rescue Force 
Homura Tatsuya - Fire 1 and can transform into Fire-1X 
Latest activity
Edit
Community content is available under
CC-BY-SA
unless otherwise noted.