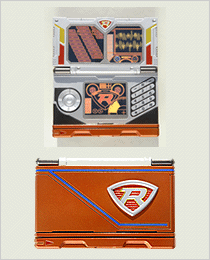 The Rescue Commanders are Rescue Force's electronic pads for rescue missions. Among its functions is changing into the Rescue suits with the Build Up! card, send data, track victims and extreme disaster's sources, and summon rescue vehicles.
Max Commander
Edit
The Max Commander is a silver and blue version of a regular Rescue Commander. It allows R1 to transform into R1 Max with the Max Up! card. Originally, it was inaccessible when Obuchi tried to use it.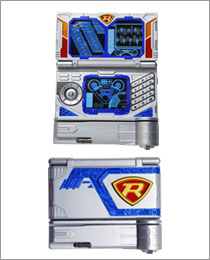 Obuchi's Rescue Commander
Edit
Obuchi's Rescue Commander was purple in color. It became damaged at some point. He still kept it with him when he became Daen. Ritsuko Kanzaki and Naomi Okamura were forced it fix it. Daen used the fixed Rescue Commander to tranform into R1.
R0's Rescue Commander
Edit
Reiji seems to use his Rescue Commander only to transform into R0 as he could summon vehicles with a hidden voice command. His Rescue Commander has red and black accents.
Hikaru Todoroki
Kyosuke Jinrai
Rei Kozuki
Juri Shiraki
Eiji Ishiguro
Natsuno Nanbu
Reiji Osakabe
Obuchi/Daen
~~Rescue Up~~
Aw!
Rescue Fire
Edit
Up Next Rescue Works
Community content is available under
CC-BY-SA
unless otherwise noted.