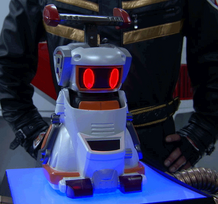 Q-Suke is a robot with an AI that transforms from a Rescue Megaphone. Its original name was TF-Q. Q-suke was given to Tatsuya Homura (Fire-1) to help him become more professional.
Korean name: 큐피 (Qpee)
Rescue Fire
Edit
After failing a driving simulator, Tatsuya was given a new kind of Rescue Megaphone by Captain Taiga. The megaphone transforms into a robot called TF-Q. At first, Tatsuya was annoyed with its personality and actions, but later got used to him. The robot was renamed Q-Suke, as his original name sounds too long. Q-Suke accepted his name when Tama-chan called him by that name.
As Tatsuya and Q-Suke preformed many rescues together, Q-Suke's program tried to catch up with Tatsuya's burning Rescue Soul that sometimes put him in risk. It became too much for the robot, that one day, Q-Suke lost its memory. Tatsuya and the team tried to regain it back by going over the arensal and the members. Q-Suke was able to remember everyone except Tatsuya. Taiga revealed that he knew the reason for the memory loss. Tatsuya, using another Rescue Megaphone, expressed his feelings for Q-Suke and his desire to work with him and begged him to remember. Q-Suke regained back its memory, with no trace of the time of amnesia.
Abilities
Edit
Q-Suke has all the functions of a regular Rescue Megaphone. In its robot mode, it's able to shoot lasers from its eyes.
Personality and Traits
Edit
Q-Suke is described as cheeky and talkative by Tatsuya. The robot acknowledges of the right time using final rescues. Q-Suke would protect Tatsuya at all measures. When X-Dragon and GaiaLeon were created, Q-Suke was excited of having brothers.
Community content is available under
CC-BY-SA
unless otherwise noted.