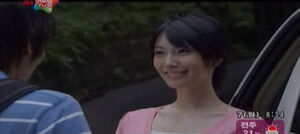 Kiara Amamiya is a beautiful and accurate weatherwoman. Hikaru and Kyosuke had a crush on her. San and Sica were also fans of her until they realize Rescue Force is with he.
Korean name:한송이 (Han Song-ee)
Hikaru and Kyosuke were assigned to interview with with Kyosuke (much to their delight) in place of Captain Ishiguro. At the same time, Neo Terror were about to start their weather Crisis Maker. San and Sica, two of the Neo Terror executives, hesitated for they like Kiara. However when they saw her with Rescue Force, they planned revenge by using the Crisis Maker.
The Crisis Maker made Kiara's predictions totally off, making her lose her confidence. R1 desperately tried to fill in for her. Meanwhile, Neo Terror summoned the Crisis Maker to cause a tornado. During the crisis, Kiara attempted to get close to get a story. But it proved too dangerous. Neo Terror made the tornado come toward where she is. Kiara tripped and nearly got sucked in. Fortunately, R1 managed to save her.
After getting on the ground, Rescue Force used their new Rescue Turbo to combat the tornado. Kiara got the story and gained her confidence back.
Shortly after, Kiara gave Hikaru her contact card. Later, she revealed to public the surprising news: she was ENGAGED! Her finance is the cameraman (much to Hikaru's dismay). However, they seem to still be in a good relationship
Months later, Kiara went to Kioyzawa for break. There she encountered Hikaru along with his friend, Riyuji. Kiara revealed to Hikaru after their last meeting, she followed his example to live. At the end of the last episode she appears in, Kiara wished Hikaru will remain the same the way she found him
Ep. 12 - The Weatherwoman's Depression
Ep. 46 - Never Change Hikaru; The Year Long Rescue Spirit
Community content is available under
CC-BY-SA
unless otherwise noted.