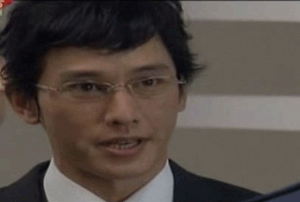 Kiichiro Shiraishi is the head of Pilon Corporation and the inventor of the Microwave Cannon. He participated in the creation of the Rescue vehicles.
Korean name: 강세원 (Gang Sae-won)
Rescue Force
[
]
Kiichiro Shiraishi was introduced to the members of Rescue Force. Shiraishi then invited the captain, Eiji Ishiguro for a visit to the lab.
Shiraishi showed Ishiguro one of their latest projects, the Microwave System. Suddenly Neo Terror hacked into the program and activated the Microwave Cannon. Rescue Force was dispatched to save the victims. Shiraishi then revealed to Captain Ishiguro he had decided to do some business in arms manufacture by creating the microwave cannon. And he intended to use Rescue Max's desgins for his next weapon. He also think Rescue Force is the same, as they're fighting Neo Terror. Ishiguro refused to give the designs and told Rescue Force only fights to save lives.
At one point, Eiji Ishiguro managed to save him from a collasping wall. Kiichiro began to see the purpose of Rescue Force as Ishiguro began helping the injured people. Rescue Max Drill-Dozer manage to get everyone out of the building including Shiraishi and Ishiguro. Shiraishi and the corporation gave permission to destroy his weapon.
Back at Rescue Pheonix, Shiraishi and Ishiguro discussed how technology could be both used for good and bad. Furthermore, Shiraishi decided to make a program that will immobilze Neo Terror's Axtos.
Episode Appearances
[
]
Ep. 34 - We Fight Only to Save Lives