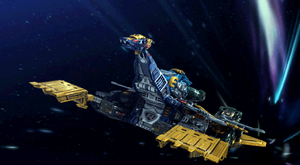 The Great Wyvern (グレートワイバーン Gurēto Waibān) is the combination of Super Fire Dragon (Fire Dragon , Dozer Dragon , and Turbo Dragon ) and Super Jet Falcon (Jet Falcon and Heli Falcon ). It resembles a huge wyvern.
AssemblanceEdit
Fire Dragon connects behind Super Jet Falcon. Dozer Dragon and Turbo Dragon's bodies would link under Jet Falcon's wings. Dozer Dragon's treads and buckets would connect on Jet Falcon's sides, forming the front legs. Turbo Dragon's fan would attach on top of Super Jet Falcon and Heli Falcon's blades would connect to its wing. FInally, Jet Falcon's nose would extend to form Great Wyvern's head.
Final RescueEdit
Infinite Thunder (インフィニットサンダー Infinitto Sandā): The Great Wyvern's Final Rescue that gathers the power of all the vehicles and freezes the movement of the enemy with the lightning strike emitted from the Wyvern's mouth. Then it launches a Wyvern Attack (ワイバーンアタック Waibān Atakku), Rescue Dash 1 with energy of 3 dragons and 2 falcons piercing the frozen enemy while spinning at high speed.
Great Wyvern GXEdit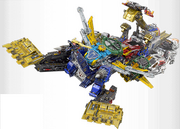 Great Wyvern GX (グレートワイバーンGX Gurēto Waibān GX) is Rescue Fire's largest vehicle combination. It's made from Great Wyvern, X-Dragon, and GaiaLeon. Originally, this combination wasn't able to be formed due to Tatsuya's lack of faith. But the combination was achieved when he gained the Blue Orb of Faith. Great Wyver GX's final rescue is Great Hurricane, firing multiple blasts that form into one ray that freezes the target and extinguish the Extreme Fires. Then it's followed by a Great Wyvern attack. All the five Rescue Dashes are launched. However, the final rescue didn't work on Donkaen.
Wyvern CannonEdit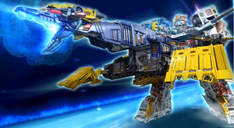 Wyvern Cannon (ワイバーンキャノン Waibān Kyanon) is the combination of Super Jet Falcon, Turbo Dragon, and Dozer Dragon. The formation is much the same, excluding Fire Dragon. The combination is used as a weapon by Rescue King (X-Dragon and Fire Dragon). It shoots a spiked round projectile at its target in one shot.